Since I don't want to miss the previous apps from our old forum. I will repost them here.
The following app is from:
dystropia
The thread will stay closed, if you want to talk about it, open a thread on General Discussion.



Let's start
---
yay, lets go! (dyst app)
What is your Nickname:
dystropia (means nothing, it's just a word that has good sound hehe xD)
How old are you?:
23
How long you have been playing AssaultCube?:
I'm not sure, but I think 5 or 6 years (with 2 years stopped)
Did you was a former member of another clan?:
sure
If (4) is yes, why did you leave?:
I started with =KFC=, but the clan was merged with |KH| by the decision of the leaders.
I left the |KH| by inactivity and started in the clan [aCKa], when i came out for cheating, and then I stopped playing.
How do you contribute on Unbreakable Clan?
I wouldn't say I'm a good player, I have much to relearn.
But I am dedicated and friendly with the people I met during those years, in which we can do good battles and have happy frags xD
Do you have an account on assault.cubers.net?:
no more
Do you play Gemas and Twin Towers maps?:
sure not xD
Have you ever been, or are you now, blacklisted from any servers, and if so, why?:
I was blacklisted when I stopped playing, in many servers, DES|, TyD, M|A...
but now I think not, and I do not know who removed me.
What time zone are you in?:
AMT and FNT
Tell us about a kind of player are you:
I have not had very good experiences in the past
when I took the game so seriously that did everything to win ... it ruined me.
Today I find myself in a totally different position, I play by play without concrete goals, just by playing and having fun.
I try to be strategic, sometimes I change weapon and use the Sniper + Pistol combo when I need to protect, or use the rifle when necessary to attack. love playing CTF in desert3, mines and depot xD
thats it, cya xD
---
MPx:
Ok, man. The last things I need is 3 private matches on 3 differents modes. Also another match on a pub server.
Cya in-game.

---
dystropia:
yea! i'm ready xD soon I'll post some screenshots
cya
---
dystropia:
here is xD
TDM demo
/http://www.sendspace.com/file/9956xv
LSS demo
/http://www.sendspace.com/file/9956xv
TOSOK PUB and I forgot ... hehe xD
but MPx have this
GGs

---
MPx:
Good games!
I was lagging a little bit XD
1st Match: TDM on ac_desert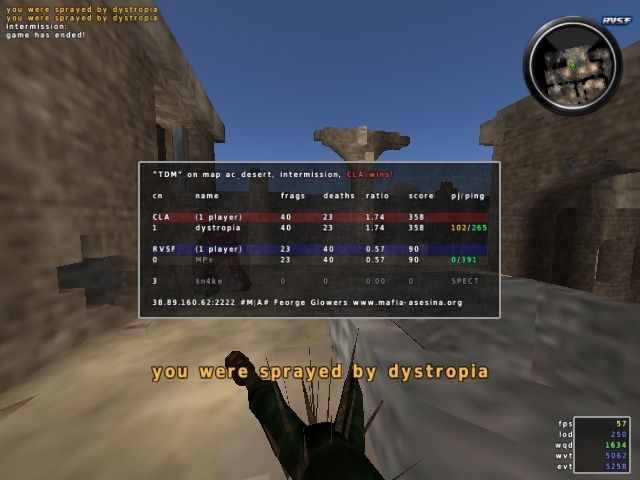 I have to say that it was blastin! GG dystropia

2nd Match: TOSOK on ac_artic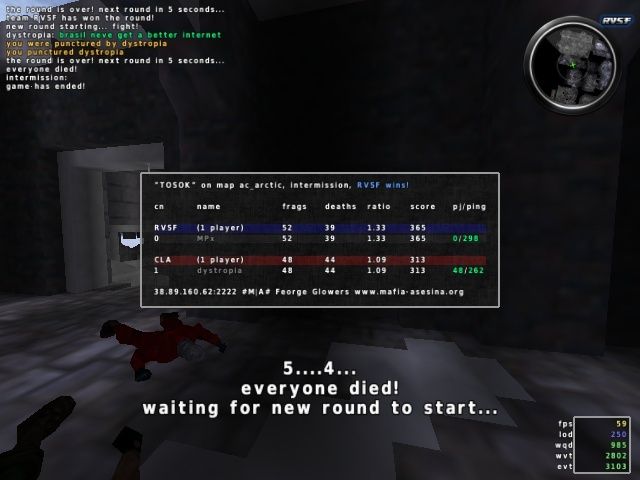 He said. "I suk on Tosok" actually was a pretty close game. GG

3rd Match: LSS on ac_douze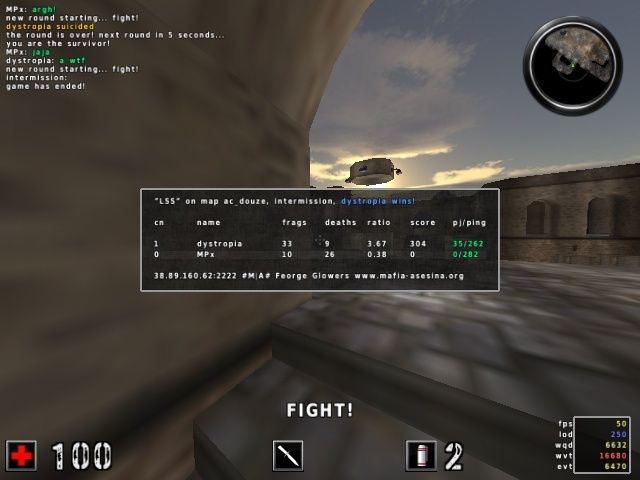 Yeah, Nice use of nades, man!

And the last one:
Pub match: CTF on ac_desert3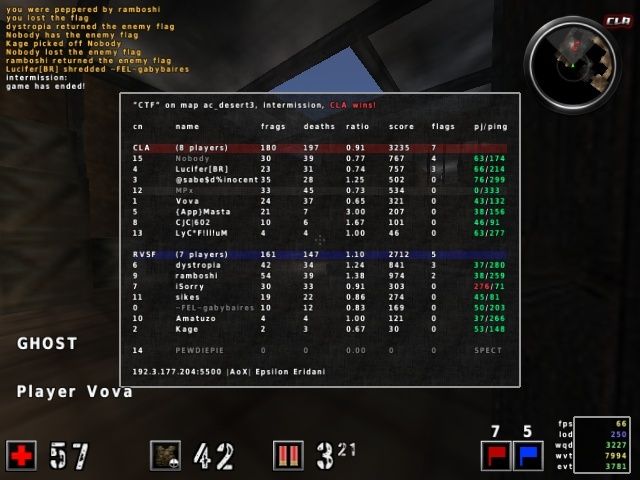 All demos
Well, dystropia got to the top immediatly. Excellent game!
---
dystropia:
yeaa!
i like sniper, but i still have to practice a lot xD I've been better at this
nades are not my favorite too, but it is always fun to play
xD
I confess, that today was a day of hurt my fingers xD haha
good games and happy frags
Last edited by MPx on 30/12/2014, 09:22; edited 1 time in total
U|Leader





Posts

: 368


Join date

: 2014-06-11


Age

: 35


Location

: Argentina



I was so excited, really nice to remember it.

___
U|Co-Leader





Posts

: 396


Join date

: 2014-06-20


Age

: 27


Location

: Brasil



Comming up next, Ana's app. Stay tunned XD

I think I almost lost them, I didnt logged since september, I guess and you know how these freforums works.. no activity on a period of time, they will delete the forums.
U|Leader





Posts

: 368


Join date

: 2014-06-11


Age

: 35


Location

: Argentina




---
Permissions in this forum:
You
cannot
reply to topics in this forum